The 2021 Audi A4 is a luxury compact car that has maintained its conservative attributes while blends in every possible tweak that can provide it a spicy performance. A senior official of the popular Palmdale Audi dealer once said, that in spite of belonging to the luxury sedan family, the 2021 Audi A4 models smack the flavor of robust wagons.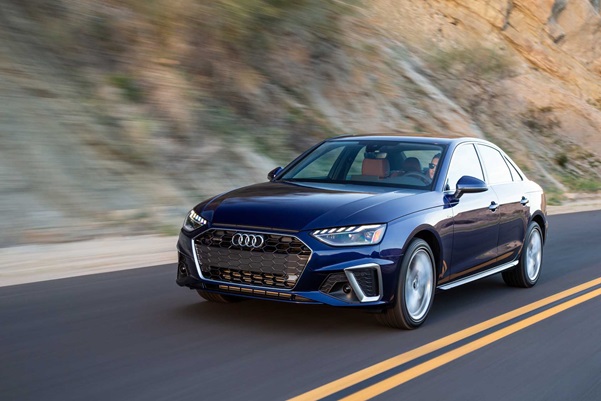 The Audi A4 sedan which is historically one of the most familiar cars in the in its family, has got all the good reasons to stand out from the crowd. Thanks to the conservative approach that the 2021 A4 has taken, because of which both the younger and older generations have found their own share of interest in it.
Though not much got changed for the A4 series this year, Audi has somehow revamped its power lineup that now consists of a 2.0-liter turbo-4 engine in the A4 models that sets all-wheel drive as standard on all trim models, which is the new change done this year. Finally, 2021 Audi A4 offers trim levels named as Premium, Premium Plus, and Prestige. Apart from the bump in the powerline, Audi also adds a wireless charging pad, while the infotainment system gets smartphone compatibility through Apple CarPlay. Other changes include addition to active safety features in Premium Plus models, that counts a new 12.3-inch digital instrument cluster, that shows active lane control and adaptive cruise control. They also get bigger wheels to ride upon and parking sensors to ease out the process of aligning the car at a tight parking slot.
Conservative Attributes
Considered as relatively more conservative than its rivals, the 2021 Audi A4 models come with unmatched finishing done in high-quality materials. Every A4 model cabin comes wrapped in soft cushy leather upholstery, accommodating four adult passengers who can enjoy their individual space with 35 inches of leg room allotted to them. Though the standard cargo space measures only about 13 cubic feet, it can be extended up to 60 cubic feet with the rear seats compromise. Other convenience features include heated power-adjustable front seats, 17-inch wheels, a sunroof, three-zone climate control, and a 10.1-inch touchscreen with Apple CarPlay and Android Auto compatibility.
Spicy Performance Tweaks
For power, each of the 2021 Audi A4 models relies on either of the two turbo-4 engines, making 201 horsepower or 261 horsepower, respectively. A 7-speed automatic transmission is selected as the sole gear shifting option for all the engines that relay the power to all four wheels.
Apart from these two engine options, there is also a 3.0-liter turbo V-6 powerplant offered in the 2021 model year lineup of the Audi A4 series. It can spin out 349 hp and can pick up 0-60 mph speed in less than five seconds. Riding lower on comparatively stiffer springs than its competitors, the 2021 Audi A4 can boast of sporty drive moves with the help of adaptive dampers and a rear limited slip differential that prevents the tires from emitting black smoke around the corners. Even while moving at high speed, each and every A4 model stays calm and comfortable. Thanks to the four-wheel independent suspension that never allows any road undulation sneak inside the swanky cabins of the 2021 A4 models, boasted an auto expert of the famous Audi dealer serving Palmdale.