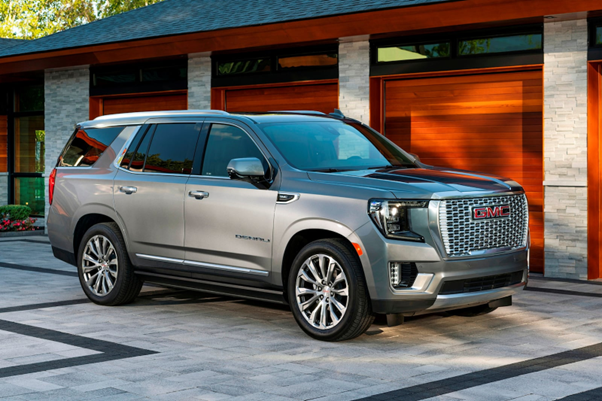 The GMC Yukon is an outstanding family vehicle for people to get. It is spacious, offers ample power, etc. to make it an ideal family car. Its 2023 variants come with a few specific changes that make it even better than its previous generation trims. 
To know about the changes in detail, one should visit GMC dealership serving Deptford Township. However, if you don't have time for visiting a dealership right away, then check out the changes that took place for the 2023 version along with other details that are given below. 
Changes that took place for this generation Yukon
The primary change to notice is the top-range Denali Ultimate version of the 2023 Yukon. It provides quite a remarkable interior that any person would love. The most fascinating aspects of this trim are its leather Alpine Umber upholstery, wood trim, front seats with power-adjustable in 16 ways, and more. 
To give a sophisticated exterior trim look, GMC equips Denali Ultimate with darkened chromes and 22-inch unique wheels. Also, the optional Super Cruise driving mode is available for this trim. 
Introducing this trim to the existing line-up is the most exciting thing for Yukon buyers. However, there have been a few specific other changes that you can know about by visiting a GMC dealership. 
Other aspects of this vehicle 
Other aspects that make it an amazing vehicle for people to purchase include its power and spaciousness. Hence, take a look at these and more in detail!
V8 engines in two potencies are what power this car. The 5.3L engine produces 355 horsepower and the 6.2L option delivers 420 horses. However, apart from these two, there is also a 3L diesel variant of this automobile, that might not have ample horsepower like the V8 but offers a torque of 460 pound-feet. This diesel choice is what you need if towing heavy things daily is what you look forward to. 
All these engines are combined with an automatic 10-speed option; this can be operated using buttons on a dashboard and every model comes with either an RWD or AWD drivetrain. Moreover, there is an AT4 model for people looking to involve this vehicle frequently with off-roading duties. This model comes with skid plates for the underbody, 20-inch all-terrain wheels, air suspension optional, etc. 
Interior

 
The interior completely depends on the trim level on purchases. People looking for luxurious features should opt for higher-end models like the Denali, Denali Ultimate, etc. It is spacious enough to hold 8 passengers, and everyone can sit comfortably due to the space available. To check out all the available variants, get in touch with Deptford Township GMC dealer. 
The entry-level trim of Yukon is SLE and it starts from $59,295. SLT and AT4 cost $65,995 and $72,600 respectively. The two top-notch models that most Yukon buyers choose to get are the Denali and Denali Ultimate; these are priced at $76,200 and $96,945. 
Hence, this is one of the best cars in its category and people should check it out once before buying any other model.