Premium luxury sedans have been the pride of automotive industry since ages, and even now, when the market-demand otherwise is showing a clear inclination towards utility vehicles. Brands like Genesis which has branched out from its mother concern Hyundai only to concentrate on manufacturing luxury family vehicles are in full swing in making exemplary sedans with the latest trends of technology embedded with the best luxury features.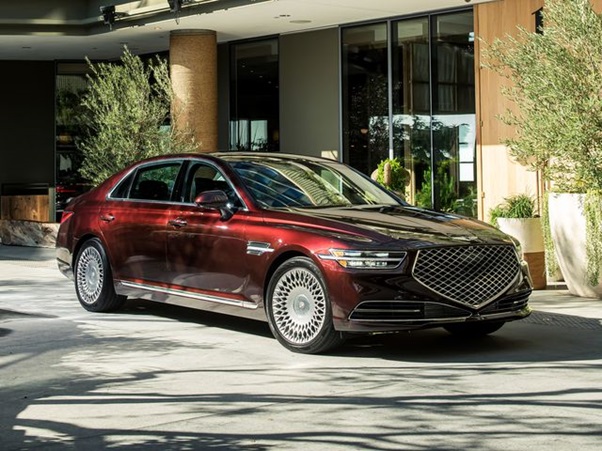 At the Conshohocken Genesis dealer, we got to explore the 2021 Genesis G90 series that was consisted of beautifully crafted sedans, all of which came with the latest safety and creature comfort features enabled in them. It goes without saying that the higher trims brought more of nerve satiating features, with better grade of materials wrapping the cabin corners, while the passengers are met with the most desirable, creature comforting features.
As a Family Hauler
After the refreshment the Genesis G90 series received last year, the mid-size family models now look even smarter than ever before with the newly crafted front fascia. This year in 2021 the Genesis G90 series also got a boost in its performance abilities. Thanks to the additional pair of adaptive suspension that is made to work with a pair of electronic dampers, to soak the road imperfections with ease. On the other hand, features like automatic auto-dimming high beams help in maintaining good visibility not only for the said car but also for others who are coming up from the opposite side.
The 2021 Genesis G90 is a full size luxury sedan that could perfectly blend the practicality aspects with an escalated level of luxury. What presents the 2021 Genesis G90 as an ideal family hauler is its spacious interior cabin that is blessed with abundance of space for every occupant, even when you stuff the cabin with a full-size family and their luggage. The circle of perfection gets completed when you take note of the list of safety features enabled in every 2021 Genesis G90 model, as standard, leaving alone the options to upgrade them with even more advanced technology features like automatic emergency braking with pedestrian detection, a surround-view camera system and an adaptive cruise control system. All this come as standard on all of its trims,
Inside of every 2021 Genesis G90 model, the cabins decorated in open-pore walnut wood trim and leather upholstery create a plush ambience wherein a 12.3-inch touchscreen display gives them the functionality of a smartphone through Apple CarPlay and Android Auto.
Power Variants
The power variants you get to see in the 2021 Genesis G90 sedans, you can see 365-horsepower which is retrieved from a 3.3 liters twin-turbo V-6 engine as standard and a 5.0-liter V-8 engine rated at 420-hp as available.
Irrespective of the power combination you choose, every 2021 Genesis G90 model succeeds in delivering consistently smooth ride quality, where the external disturbances get little scope to crawl inside the serene cabin atmosphere, shared the Conshohocken Luxury car dealership .